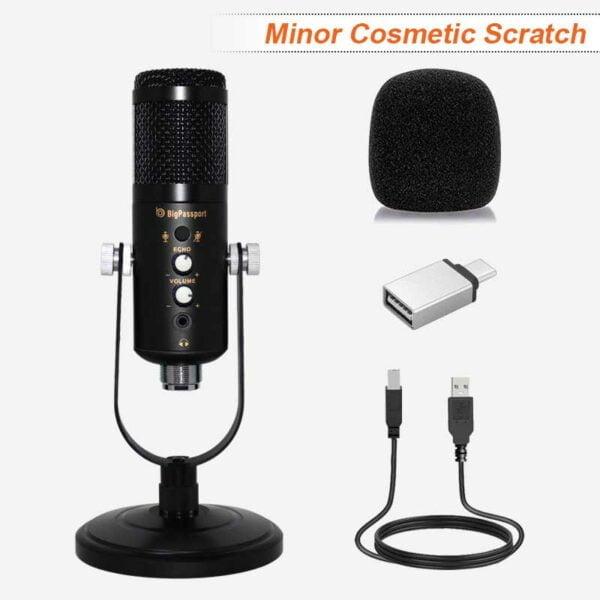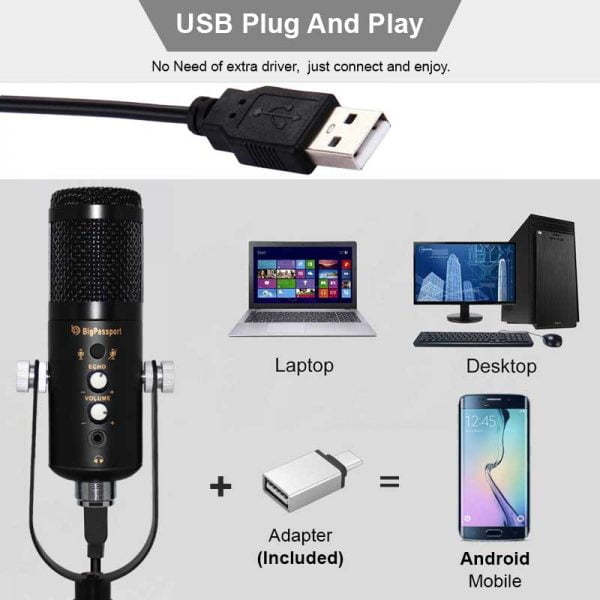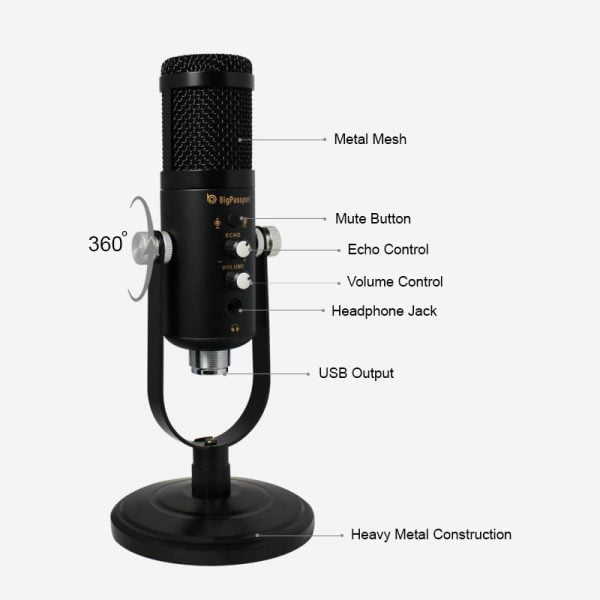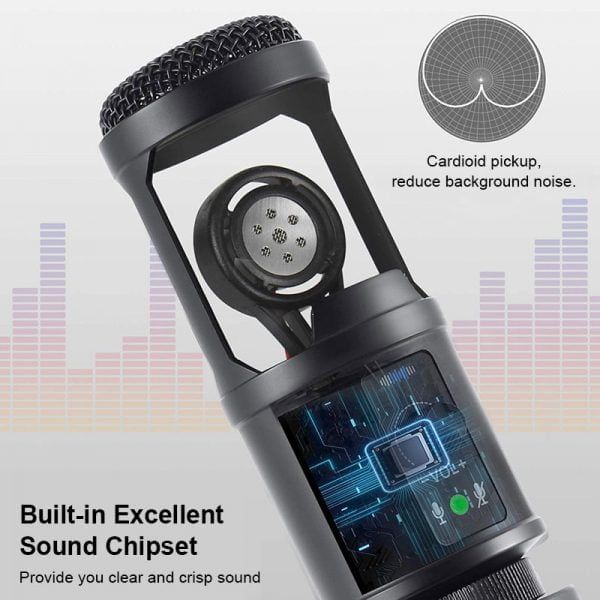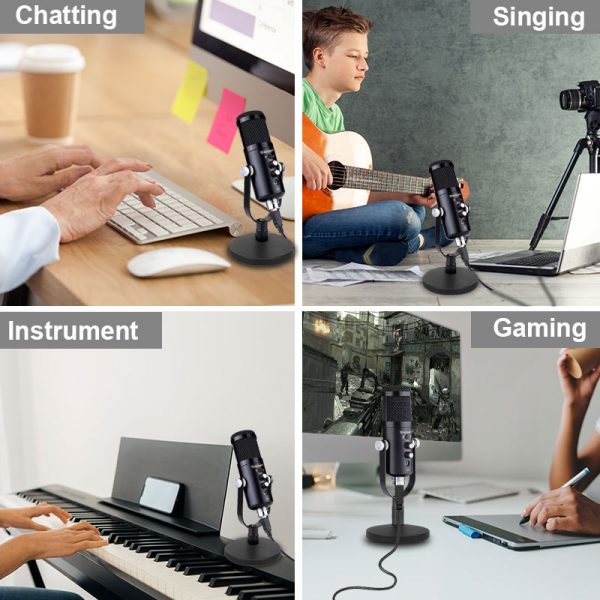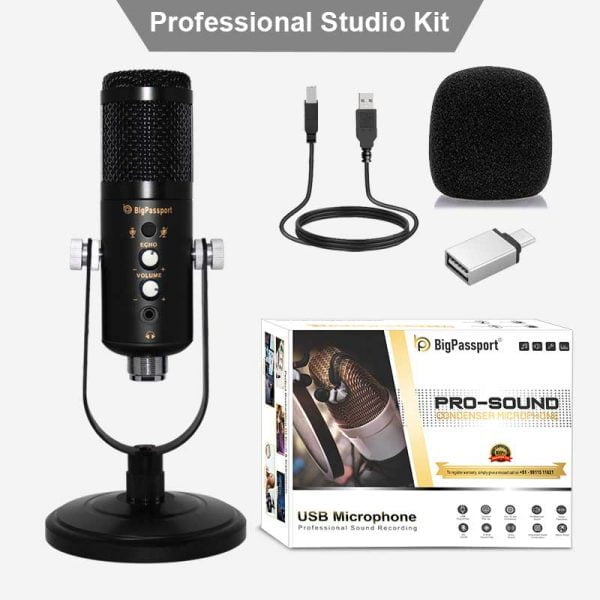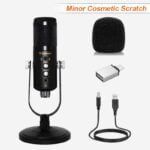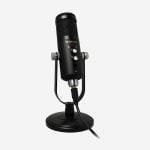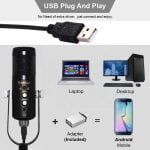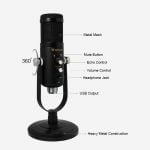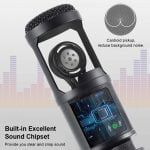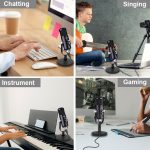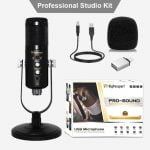 BigPassport Re-Furbish Condenser Microphone (Model-Pro-Sound_MU07) | HSN:- 85181000
This is a Refurbish product with minor cosmetic scratch
For FAQs related to Renewed products, please
Plug and Play: USB Plug and Play condenser microphone.
Durable Microphone: Microphone with hard metallic body and heavy base stand.
Control Button: Function control for Volume/Mute and echo.
Cardioid Design: With cardioid pattern and 16mm large diaphragm.
Universal Use: Compatible with all latest Windows & iOS systems.
Description
Video
Reviews (0)
Description
Big Passport Condenser Mic Pro-Sound MU07
Big Passport Condenser Mic Pro Sound MU07 is for Studio level sound recording direct from your computer, mobile and monitor live sound while recording. Just plug your headphones directly into a 3.5mm jack and ready to use. It also have control Function on microphone i.e. Volume control, Echo control and mute/unmute. Pro Sound MU07 is made with heavy rough metal, provide stable grip and remove any unwanted vibration and flexibility.
USB Plug & Play: Directly connect with PC and Laptop via USB port. No additional drive needed. Compatible with all latest Windows & iOS operating systems.
Excellent Sound Quality: With cardioid pattern and 16mm large diaphragm, BigPassport microphone captures the clear, smooth, and crisp sound in front of the microphone. Built in professional sound chipset for HD recording every time.
Built-in Headphone Output:Just plug your headphones directly into a 3.5mm jack and monitor live sound while recording. Particularly good for YouTube recording, Voice over and podcasting
Solid Construction: BigPassport microphone is made with heavy rough metal. It provide a firm and stable grip on table or other flat surfaces. Remove any cranking sound due to light or unstable stand. Flexible to remove stand and put on arm stand.
Full Function Control: Mute Button to switch On/Off microphone function. Volume control button to adjust volume. Echo Button to control the reverb sound effect.
Demo Video Of USB Condenser Mic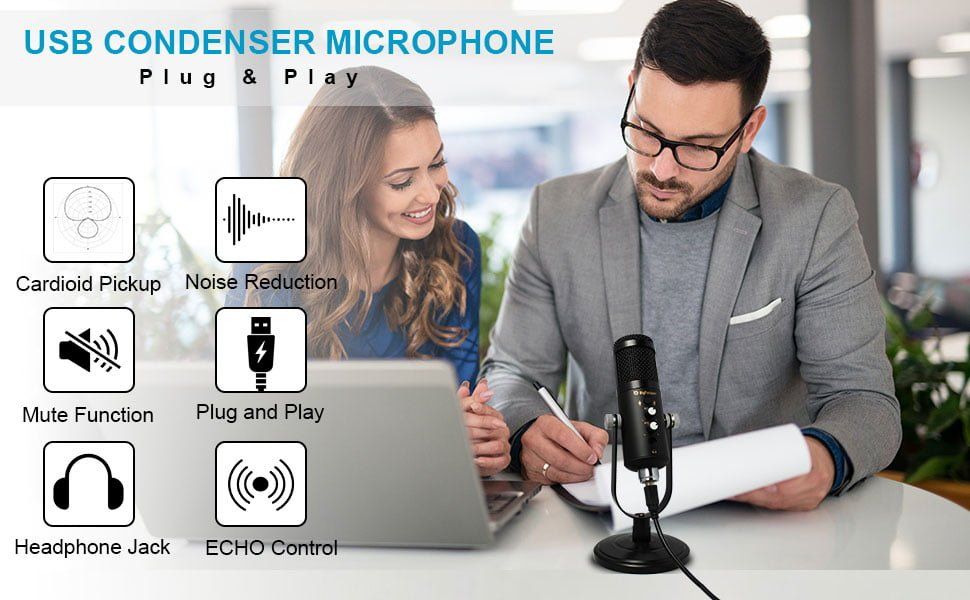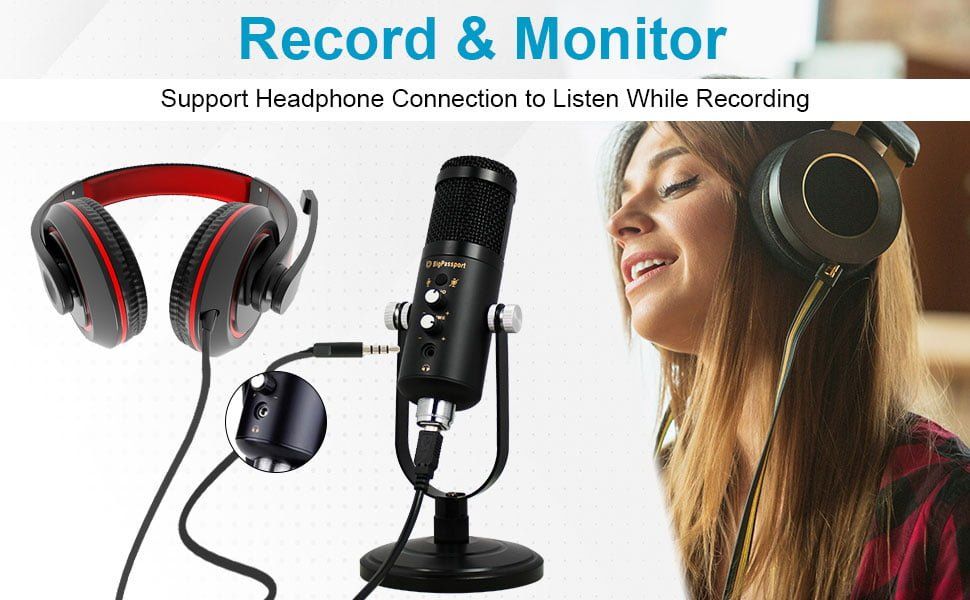 Features Of Mic: –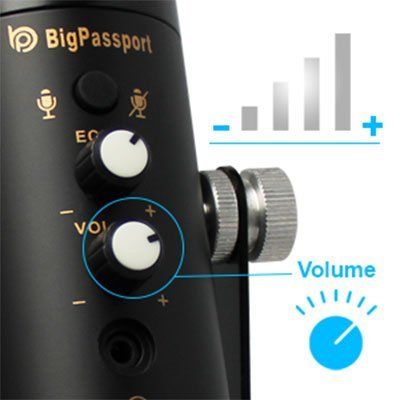 Volume Control
BigPassport condenser mic is equipped with a volume control that allows you to control the volume directly on the microphone. Turn clockwise: increase volume Turn counterclockwise: decrease volume. Prefer 50% volume sound level for balanced sound with crystal clear HD sound quality.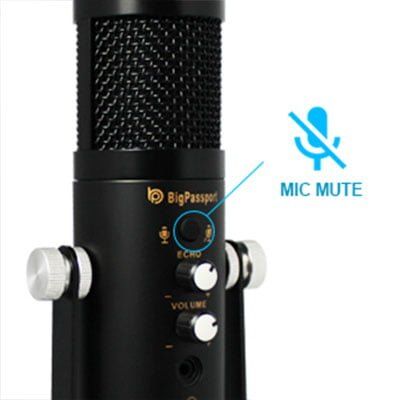 Mute & Noise-filter Function
You can mute your mic by simply press the "MUTE" button. If you press and hold the "MUTE" button for 2 seconds, it will turn on the noise reduction mode, filtering out more than 90% of the extra noise, and only captures the clear, smooth, and crisp sound in front of the microphone. This function enhances excellent sound quality.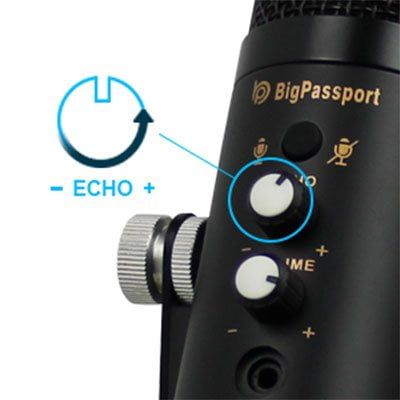 ECHO Control
With inbuilt ECHO control knob adjust the reverb effect while recording or mixing. Fully controlled echo effect that offer the opportunity to create a sound effect from your studio that feel like a music or sound recorded in a concert hall or big arena. Perfect for mixing and voice over recording to create required level of reverb effect.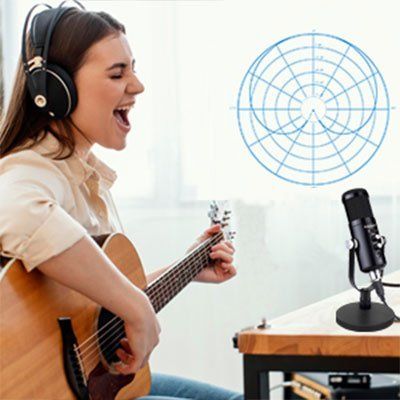 CARDIOID MODE
Cardioid polar pattern reduces pickup of sounds from the sides and rear, improving isolation of desired sound source. Just plug your headphones directly into 3.5mm jack of microphone for zero-latency monitoring that eliminates those distracting delays so you can record and overdub in real-time. Make sure it outputs exactly as expected.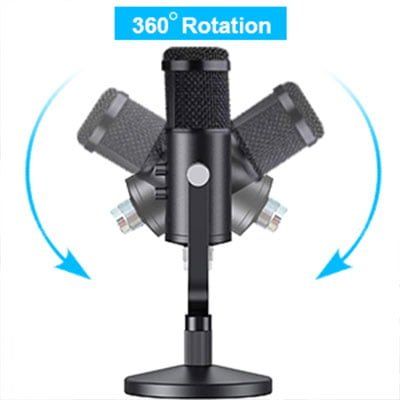 Heavy Metal Stand
The stand is made of 100% metal which very compact and sturdy. Never easy to collapse and perfectly support the mic to be stable on any desk or recording surface. A perfect grip of microphone on table help to remove any cranking sound. Suitable for podcasting and streaming. Microphone can also be removed from metal base and put on arm stand.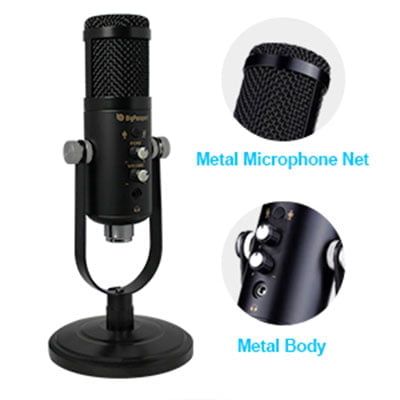 Metal Mesh
BigPassport is a broadcast-quality dynamic microphone optimized for podcasting. It has a rich, balanced sound, with an internal pop filter to minimize plosives and internal shock mounting to reduce vibration. High sensitivity and low signal to noise ratio records every subtle nuance of your source audio.

Package Includes
Microphone 1 unit
Metal base 1 unit
USB Cable 1 unit
Filter Foam 1 unit
C type adaptor 1 unit
Micro USB adaptor 1 unit
Frequently Asked Questions
What is a Renewed product?
Products that are returned from customers or by courier return are tested and then sold as Renewed. Products might have some cosmetic marks & sign of usage, but fully functional.
What is covered in warranty for Renewed products?
All Big Passport Renewed products are supplied with 2 months warranty. If for any valid reason product stop working, Big Passport will repair or replace the product.
Is this helpful for person having low sound problem?
Yes, it captures very little and small sound.
Does this work with Skype?
Yes, it is well compatible with Microsoft.
Do I need to install and driver to work?
It is simple plug & play device with auto driver install function.
Do I need a software program to use this microphone?
This is a great microphone, all you have to do is plug it in and start using it. No software is needed. It is controlled by windows.
Does BigPassport Microphone work with iPhones?
Yes, Any USB microphone can connect to a compatible iPhone or iPad when using a genuine Apple Lightning to USB camera adapter. Lighting adapter is mainly supplied with iPhone, but can also be bought separately.
How will I get support to install Big Passport Renewed products?
Same as Big Passport new products, for all Renewed products there are installation videos & user manual available. If user still face any issue with installation. They can contact Big Passport Customer care team.
Technical Specification
Technical Specification:
Model No.
Pro-Sound_MU07
Directionality:
Uni Directional
Frequency range:
20Hz-16kHz
Sensitivity:
-38dB±2dB (0dB=1V/Pa at 1kHz)
OutPut Impedance:
150Ω±30%(at 1kHz)
Load Impedance:
≥1000 Ω
Equivalent noise level:
16 dBA
Maximum sound pressure level:
132dB(at 1kHz≤1%T.H.D)
Signal noise ratio:
78db
Electrical current:
3 mA
Video